Restaurants
There are many very good restauarants in and around Paphos. In fact I don't think we've ever had a bad meal, although standards do vary. A very complete index of Pahos restaurants can be found at http://www.cyprus-eating.com, but below are a small selection of our favourites.
Petros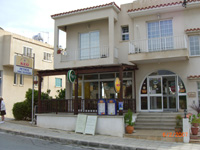 Petros is the owner of this restaurant in Chlorakas who both cooks and waits. The service is pleasant and he opens from breakfast till late into the night. There are a few tables situated outside on a small balcony and the menu is typical Cypriot.
Fat Mamas
This is an Italian American restaurant located just down the road from our apartment on the Tombs of the Kings Road. You get real American sized portions, so make sure you're hungry. Get there early or you'll have to queue. But don't let that put you off too much as they usually move quite quickly.
Don't expect a quiet evening at Fat Mamas as the waiters and waitresses do more than just serve you your food!! Check out their web site at http://www.fatmamasonline.com.
Rimini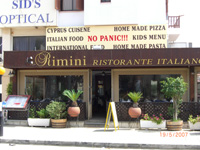 This is another one of our favourites. It's an Italian restaurant located at the far end of Paphos just past the Aloe Hotel on Danaes Street, and is well worth a visit. You will be greeted by Panicos, who has his favourite English catchphrases. The food and the choice are excellent and, in our opinion, is amongst the best in Paphos. See http://www.restaurantsinpafos.com.
Adelaida
This is a mediterranean restaurant situated opposite the Almyra hotel. Adelaida offer a set menu that includes a free bottle of wine for every 2 persons. The staff are very friendly and it's well worth a visit,especially if you are on a tight budget.
Les Amis
This family run restaurant is very popular all year round. It is so popular that it is recommended that you make a reservation to aoid disappointment. Again the food and service are excellent. It is located behind the ALoe Hotel, opposite Evis Pub. See http://www.lesamis-restaurant.com for more details.
Sisyfos Rooftop Restaurant
Sisyfos steak house has a roof top location and is located on the Tombs of the Kings road opposite the Kings Hotel. It is extremely good value for money, especially if you go for their varied set menu
Chloes Chinese Restaurant
Chloes have two restaurants in Paphos – one is on the Tombs of the Kings Road, and the other is on Paphos sea front. They offer excellent Chinese cuisine and like all the restaurants listed above are very friendly. The restaurant on the sea front has an indoor garden with waterfall, a very large wine cellar, and the décor is very impressive. For more details check http://www.chloesrestaurants.com
King's Aphrodite's Restaurant
This is a traditional Cypriot restaurant that's also popular with the locals (which is always a good sign). It can be found on the right on the Tombs of the Kings road heading to Paphos. They have live Cypriot music 4 days a week and prices are very good.
Grazie
Grazie is a very popular Italian restaurant located just off bar street. It's slightly more up-market and a bit more pricey than other restaurants, but the food and service are excellent. Check their web site for their current menu and prices: http://www.grazieristorantepaphos.com